C H I E F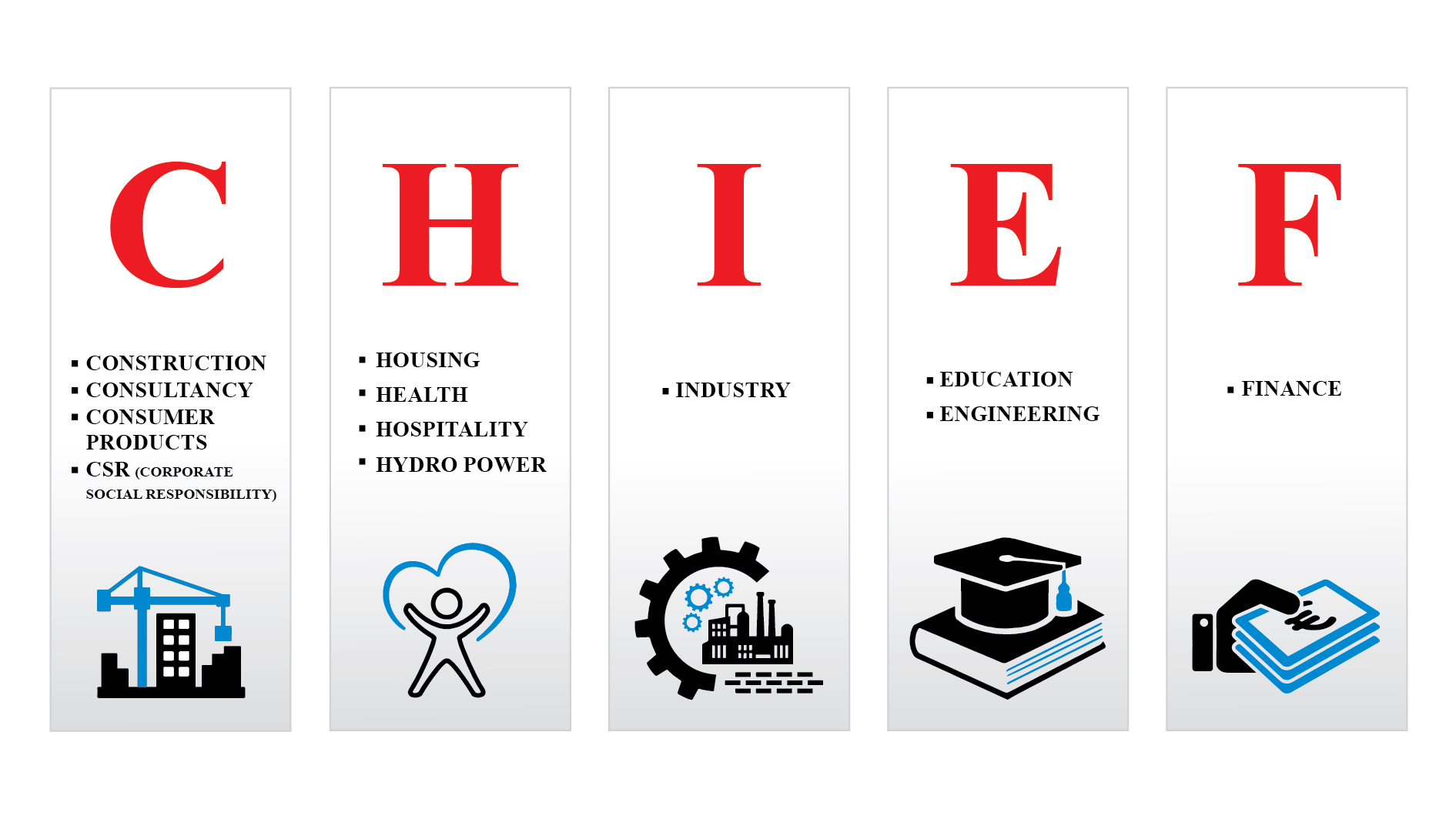 C.H.I.E.F. aptly explains CE's interest of the business areas that complement with its vision of integrated diversification of construction management. With the establishment of Grande International Hospital, it has embarked into the health care sector and thereby substantiating to the fulfillment of its core business areas.
Construction, Consultancy (Design) and Construction Management: Drawing on its "forte" of construction and organized construction management and tapping into local as well as global opportunities, it has very successfully set up a host of associate ventures. CE Services is its designing and consulting wing whose services are available to outside organizations as well.
Health, Hospitality: Operating in multiple industries helps for the survival of the company, but being able to serve the needy would add value to its existence. Therefore, with an aim to provide quality health care services of international standard within country, CE established Grande International hospital that came into operation since 3rd Jan 2013.
Industry: The organization is constantly exploring means to offer its customers a best value for their money. In this quest, CE has ventured into manufacturing industries such as Aggremate Pvt. Ltd and CE Metal Works that produces construction raw materials. By doing so, it is not only able to control the quality of its inputs in construction fleet but is also able to ensure timely deliveries of the internal demand.
Education: With a commitment of developing effective leaders and managers capable of meeting the challenges and opportunities today, our dream of a prosperous Nepal will be realized only when we have created an abundance of work opportunities and have the necessary human resource capable of leading them. As promoters of Ace Institute of Management and Ace Higher Secondary School, the organization is committed to bettering the quality of education in the country. It believes that good education does give rise to creative and daring entrepreneurs, and a background in management helps to create a sound and organized company.
Finance: Having experienced the difficulty of running an enterprise faced with financial constraints, it understand the implication of finances to the growth of an enterprise and can sincerely relate with those enterprising individuals limited by their access to capital. Like many, it shares in the dreams of making capital accessibility easy for individuals with entrepreneurial drive. Besides, realizing the fact that private investment is required for the development of industries, infrastructures, and business, Grande Holdings Pvt. Limited is founded with an aim of contributing to development activities through diverse business entities led by experienced professionals and entrepreneurial founder promoters with strategic partners.
Grande holdings create and manage multi faceted portfolios with unique operation module approach by applying innovative financial tools. The company aims to mobilize its investment in diverse sectors ranging from hydropower, tourism and hospitality, healthcare, infrastructure and real estate. The modus operandi for each identified project is designed to have a promoter from the respective field as a strategic partner to ensure effective execution.